Writing is Thinking,

It is more than living,

For it is conscious of living.
Anne Morrow Lindbergh
MystrIc
Terri
WeIie
siwei
Liminality
LIX
Xingyun
Dream Gal
ErIn
Evon
Bee
Zac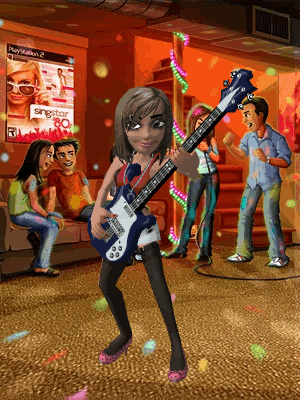 Created using photobucket
| | |
| --- | --- |
| | Wednesday, April 09, 2008 |
Parting is an inevitable part of life and i take it rather fine 'cept that the shedding of tears is totally out of my control. Thank you all for coming to send me off at the airport exactly 2 months ago!! i know some can't wait to pack me off and kick me a few thousand miles down under :P but don't be happy so soon, i'll be back!! thanks for all the thoughtful little handmade gifts, handwritten cards, handcream, photo display board, t-shirts and angbao that you wonderful people gave. God has blessed me with wonderful friends and relatives such as you.
as i've moved to a new place, a new blog is also setup to match the change!
http://xuandelier.wordpress.com
catch you guys there!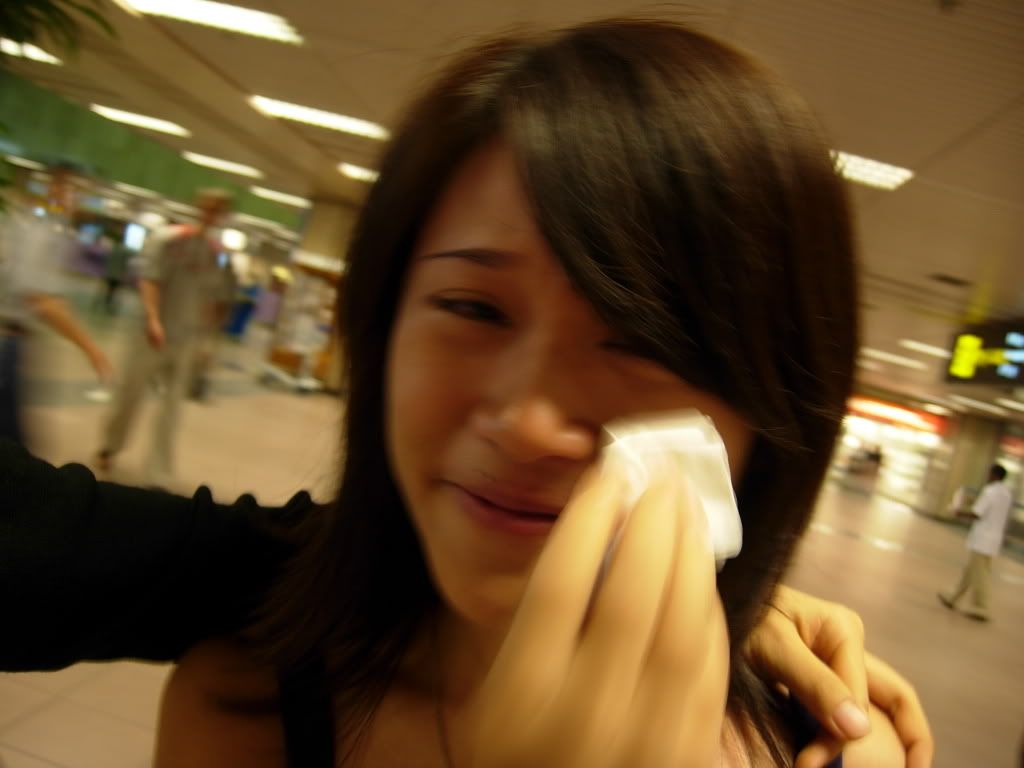 Posted at Wednesday, April 09, 2008 by xenomorphic
Permalink
| | |
| --- | --- |
| | Saturday, February 02, 2008 |
Personality Chart
| | |
| --- | --- |
| | |
| Independence | |
| Assertiveness | |
| Submissiveness | |
| Perfectionism | |
| Ambition | |
| Aggression | |
| Extraversion | |
| Worldliness | |
Personality Description
To begin the analysis, the subject's handwriting shows more of a fluency and flow than the average script. The writing impulse is unbroken and the words sweep forward with relative ease. This released writing indicates a generally easy-going and less conformist attitude than the average. The subject will prefer the unusual to the familiar, and will be more likely to express her emotions and feelings than a writer with restrained script.
The pressure used throughout the script is average in intensity, indicating that the subject is able to maintain a balance between too much activity and too great a degree of lethargy. As a result, she lacks the intense drive and enthusiasm shown by writers with heavy pressure, but will be equally tolerant of inactivity in those who use a lower pressure in their script. She will be good at working methodically at the more routine tasks.

The subject has a signature that is smaller than 85% of the population, and as a result does not have a very high opinion of herself preferring to avoid the limelight whenever possible.
Although she may enjoy the benefits of high status, if the role is forced upon her , she is unlikely to seek acclaim and attention. She is more modest than a writer with a big signature and can accept criticism more readily.

The handwriting shows expansiveness, and this use of space is linked with an extravert personality.
The subject has an above average physical and mental need for space around her and hates to be confined. When writing, this hunger for space reveals itself in a desire to cover as much paper as possible with her letters and words.
Expansiveness is also the cornerstone of her social relationships. She prefers company, such as a noisy party, rather than being left alone to watch television or read a book. She probably has many friendships, but all maintained at a fairly superficial level.
She prefers more excitement and risk than the average person, taking life lightly as a result. She probably appears impulsive, blurting out remarks without thinking first, buying goods on impulse, and making major decisions about her life on the whim of the moment. She could be easily bored and often yearns for change and variety. She is likely to freely express her feelings and moods, even if she tries to cover them up. She is not too concerned by some disorder and lack of control, and may even become bored if there is too much order in her life.

The handwriting shows a few signs of a perfectionist personality. Although generally more easy-going than the average person, the subject also seems more orderly and methodical, perhaps being a little over-concerned with small details, and fussy about trivial matters. She may sometimes seem undecided about the best course of action to take, and may appear to have some self-doubts.

Emotionally, the subject may have a tendency to worry more than the average person, perhaps appearing somewhat nervous and excitable. She may not only worry about everyday problems, but over extreme and unlikely events.

There are a few indications in the handwriting that, at the time of writing, the subject was suffering from mild stress. This may be temporary, for example if she was upset, tired, or working against a deadline. However, the subject may be living at an unacceptable level of stress, one which is beginning to affect her physical well being.
These are warning signs in the handwriting, and indicate that the subject should pause and reflect on those aspects of her lifestyle which may be causing long-term difficulties. She should try to reduce them whenever possible, relax more frequently, check her diet, and perhaps take more exercise. Stress can be beneficial, but if allowed to get out of control, it may prove a hazard to mental and physical health.
Try it yourself!! http://www.quantumenterprises.co.uk/handwriting/hwa12.htm
Posted at Saturday, February 02, 2008 by xenomorphic
Permalink
Get to know yourself better
Your view on yourself:
You are intelligent, honest and sweet. You are friendly to everybody and don't like conflict. Because you're so cheerful and fun people are naturally attracted to you and like to talk to you.
WHat? i don't see myself as intelligent, honest and sweet... not so thick skinned.. haha. true enough i don't like conflict. but these days i try not to hide from them anymore, gotta face them and make peace.
The type of boyfriend you are looking for:
You like serious, smart and determined people. You don't judge a book by its cover, so good-looking people aren't necessarily your style. This makes you an attractive person in many people's eyes.
Sense of humour is a MUST. Cannot imagine cracking a joke and have someone stare at me blankly.
Your readiness to commit to a relationship:
You prefer to get to know a person very well before deciding whether you will commit to the relationship.
Yes and Amen!
The seriousness of your love:
Your have very sensible tactics when approaching the opposite sex. In many ways people find your straightforwardness attractive, so you will find yourself with plenty of dates.
sensible tactics? hahaha
Your views on education:
Education is very important in life. You want to study hard and learn as much as you can.
Experience as much as i can about life, not only in the academic sense.
The right job for you:
You're a practical person and will choose a secure job with a steady income. Knowing what you like to do is important. Find a regular job doing just that and you'll be set for life.
Regular job? nah.. still not quite ready to settle down on something REGULAR.
How do you view success:
You are afraid of failure and scared to have a go at the career you would like to have in case you don't succeed. Don't give up when you haven't yet even started! Be courageous.
The jobs that i would love to try: Deejay at radio station, theatrical director, theatrical artist, psychologist, manager of a cafe, wedding planner?
What are you most afraid of:
You are concerned about your image and the way others see you. This means that you try very hard to be accepted by other people. It's time for you to believe in who you are, not what you wear.
this is a 50-50. It feels good to be accepted by people, but i am not THAT concern with image. But then again, i make sure i dun pick my nose in public :P *laughs* does that make me into someone concerned abt image?
Who is your true self:
You are mature, reasonable, honest and give good advice. People ask for your comments on all sorts of different issues. Sometimes you might find yourself in a dilemma when trapped with a problem, which your heart rather than your head needs to solve.
Bleah...
Courtesy of hoon's blog, get to know yourself better below!!
Posted at Friday, January 18, 2008 by xenomorphic
Permalink
| | |
| --- | --- |
| | Thursday, January 17, 2008 |
Met up with weiie for the first time since she came back from Sydney. Together with blessed hoonie who has NO SCHOOL on wed, we decided to try something different this time :)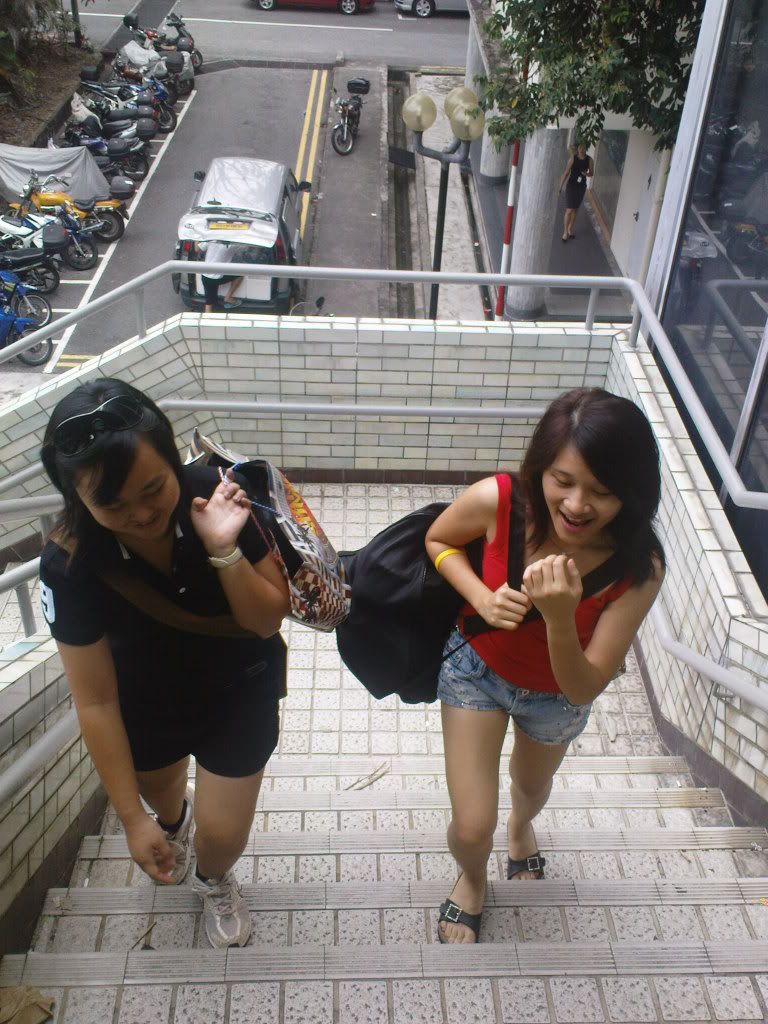 Had to painfully lug our blades everwhere we went. this photo makes the job looks deceivingly easy.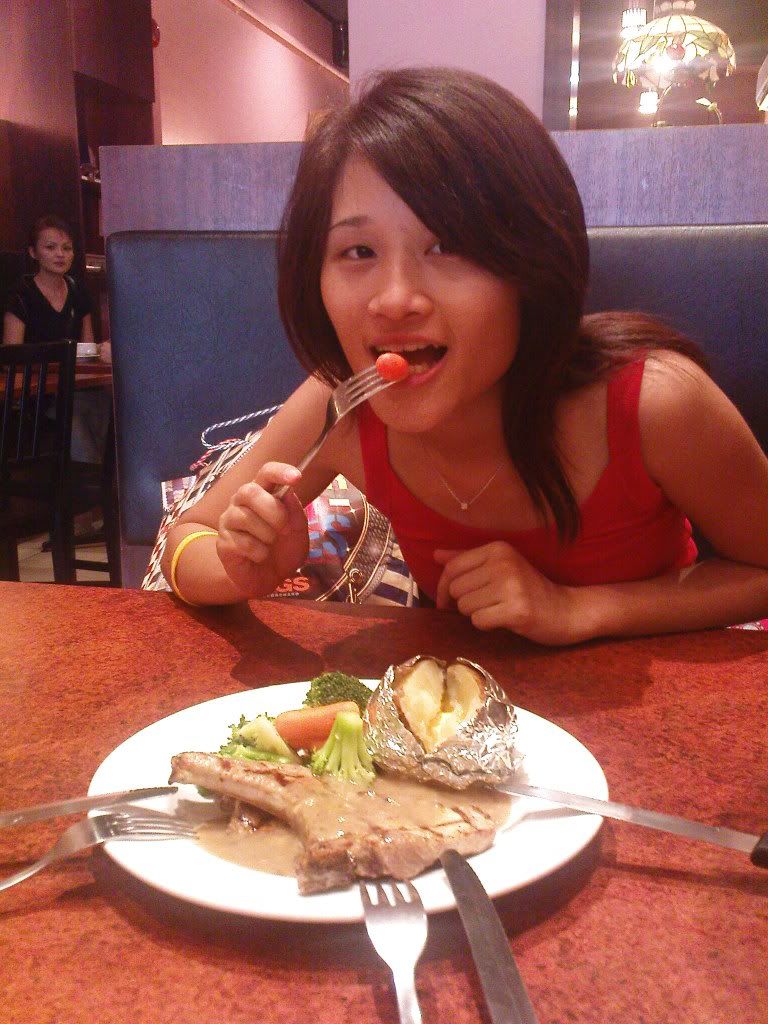 We couldn't resist a snack at aston's before the real action began. Pork chop here is gooood.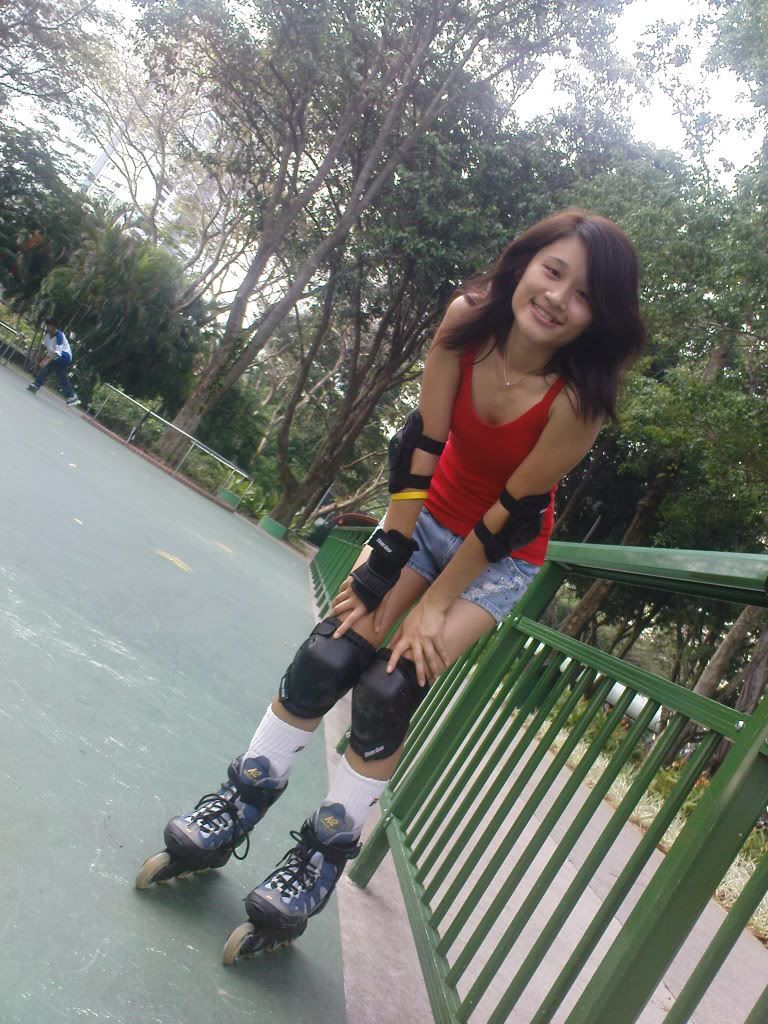 All geared up this time, can't afford to break a bone before i fly. And a rollerblading coach was kind enough to have his student show me how to stop the proper way.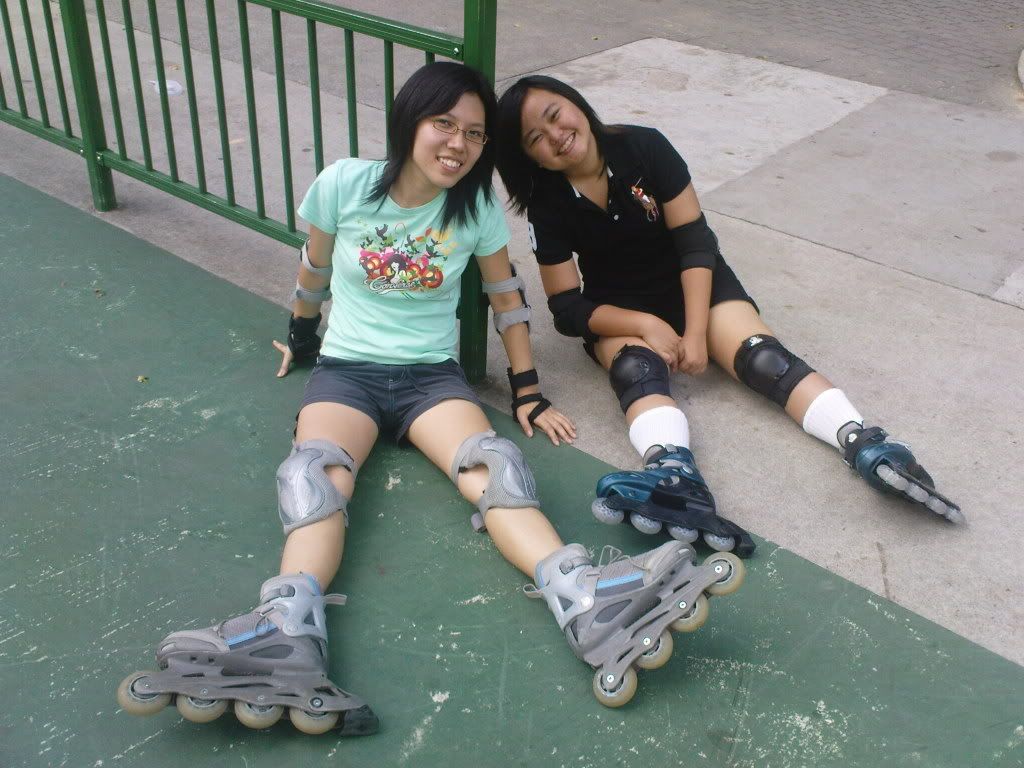 Crazy daisy and weiie sprawled all over and worn after a few practice session in the rink.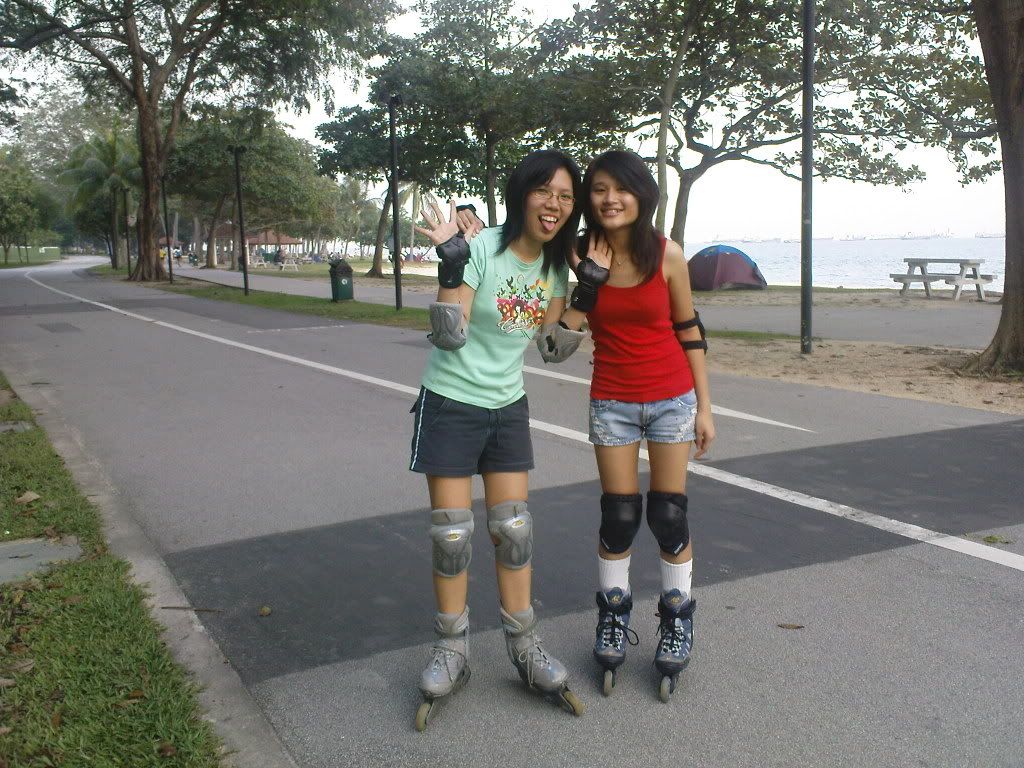 We finally ventured out of our comfort zone!!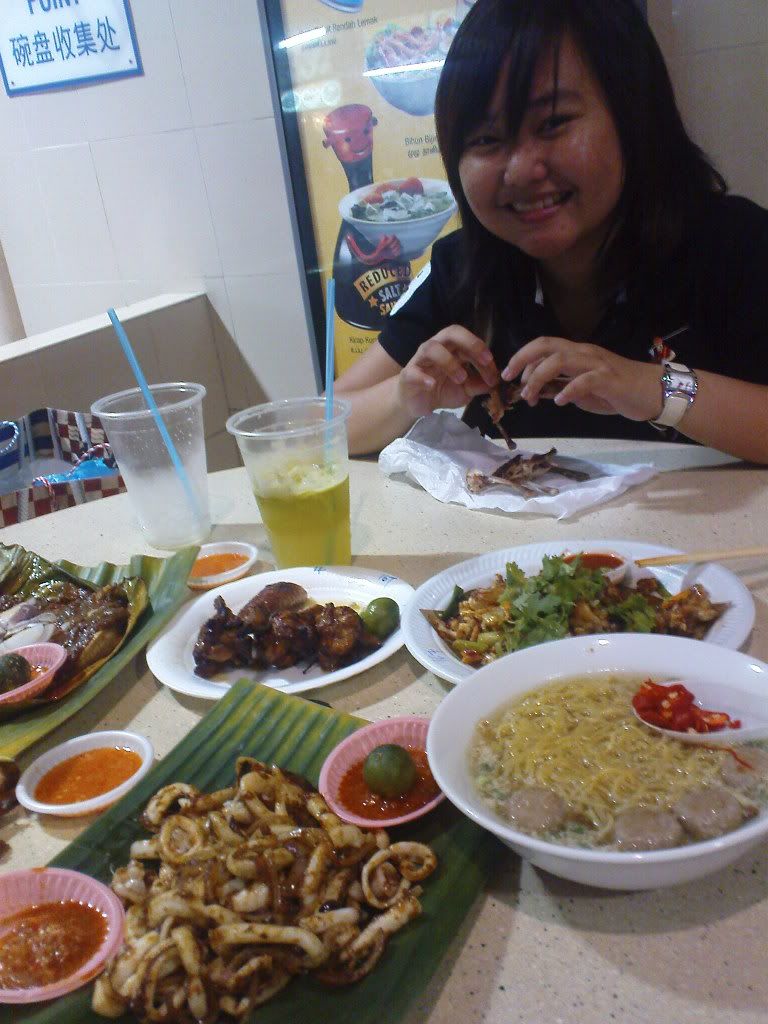 Sinful dinner at Bedok Blk 85!! We replaced all the calories we shed!
Its always enjoyable to be in the company of these wonderful best buds of mine, sometimes laughing our heads off and sometimes staring into space together and engaging in serious talk.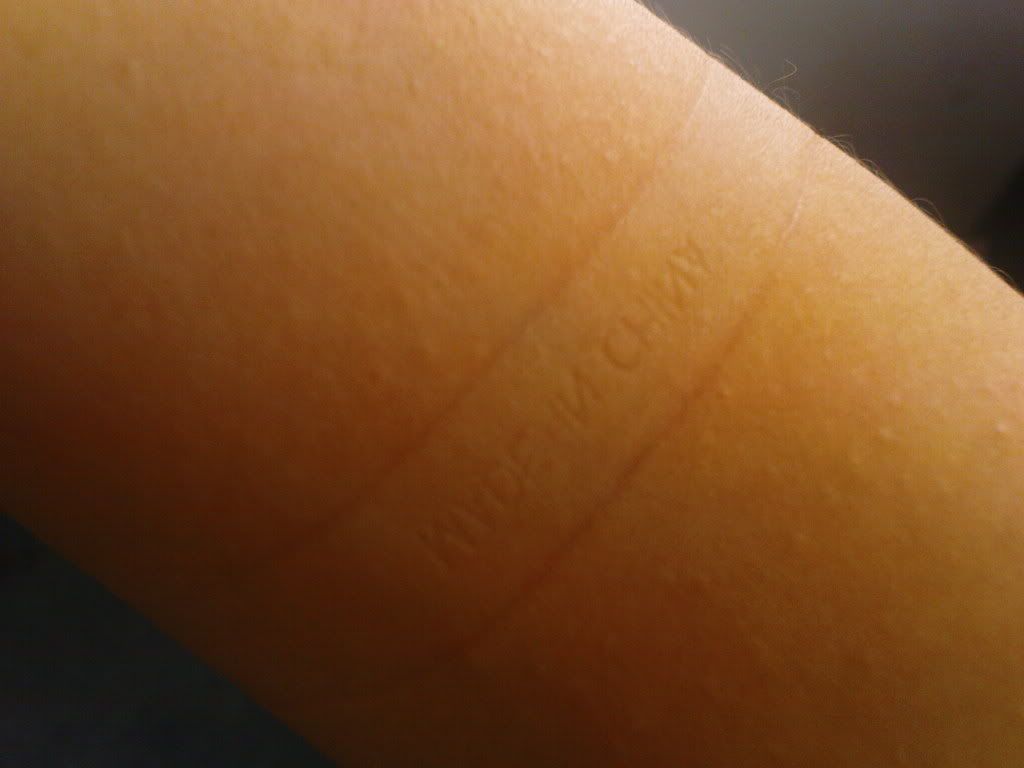 Lastly, thanks Zac for the yellow livestrong wristband. Love it!
After a few hours of putting it on, I officially became a product Made in China.
Posted at Thursday, January 17, 2008 by xenomorphic
Permalink
God not only cares abt the Big things, but even the small things too!! This is what i mean.
afternoon, hung the laundry out to dry and went to the nearby cobbler to get an additional sole for my boots. since it was a bright and sunny day, why bother to keep the clothes in? but before i could get back home, the sky opened and poured heavily. there goes the laundry.. and in my mind i thought to God, please hold the rain at my block (which was only 300m away). i rushed home in a poncho, yeah, bought a flimsy transparent poncho and went home in it, how embarassing.
the first thing i checked? the laundry. some parts are damp but other are totally dry. peered at the ground 15 floors down and its obvious that its wet and it rained over at my block too and yet the laundry is not soaking wet!! I don't know how He did it, but He did. Thank God!!
Posted at Friday, January 11, 2008 by xenomorphic
Permalink
Hoon mentioned that my dad looks like a particular HK actor whose name is unknown to her. Never thought of him that way. And thank God for internet, with just a few clicks, i found someone who fits the bill.
Liu Dan
VS
Ok, some resemblance of the facial shape, thick brows and moustache. So maybe my dad has the making of an actor and not to mention that he sings quite well without professional training!
Posted at Friday, January 04, 2008 by xenomorphic
Permalink
| | |
| --- | --- |
| | Sunday, December 23, 2007 |
Skiing at Nanshan - Beijing Day 5
Love to try new things and skiing was one of them!! Beijing ain't cold enough this period for snow, but what does it matter, we had snow all the same, man-made!
Yeap, the gang of 4 ladies who skiied. the rest built snow man. Me almost drowned in that oversized rented ski jacket.
So there it was, the snow man. Couldn't stop laughing when i saw it, the kids did a great job at making a snowman fit for halloween :P
We've got 2 hours of basic skiing lesson from the instructor there and that's the pose that we're suppose to get into. I would be unbashful and say that basic skiing isn't as hard as i thought it would be :)
that's just me and my sis acting goofy.
Isn't my dad handsome? I love his hat!! Usually the photographer gets forgotten, so i had to grab him for a shot.
Only when we realise how little time we have that we begin to treasure every moment of it. When i was younger, family wasn't a priority. i always make time for friends and when it comes to family, its just routine. But now, i just want to spend time with them doing things that we enjoy or they enjoy. even if it means just watching TV with my dad. Now i'm not afraid of initiating hugs because if i can hug good friends so easily, why can't i put pride aside to hug my family. And i'm no longer ashamed of shedding tears at parting because why should i be afraid to show that i'll miss them and why hide feelings from them when they are the closest ones... Well, just gotta buck up, do my thing and look forward to seeing them in a year's time.
Posted at Sunday, December 23, 2007 by xenomorphic
Permalink
| | |
| --- | --- |
| | Friday, December 21, 2007 |
Wo Shi Hao Han - Beijing Day 3
Went to the great wall of china today. It isn't my first time, was there 7 years ago at the famous Ba Da Ling. And this time. we went to Mu Tian Yu, lesser visitors, not as crowded and better for walking. However, its pretty cold and we saw snow on the ground on the way there :)
Look how covered we were, my nose was frozen!
we took the cable car up, walking will be totally exhausting.
I prob won't be back, so better hug it tight!
We chose to take the tobogan down. Wheee!!
Posted at Friday, December 21, 2007 by xenomorphic
Permalink
| | |
| --- | --- |
| | Thursday, December 20, 2007 |
Extreme Gourmet - Beijing Day 2
Went to party world with the whole family!!
Looks kinda grand isn't it? like a hotel!! but its only a KTV
Dad. Even the little one can sing!
mummy and i. Look alike?
cassandra and sis eating from lunch box
all in all we sang 3 hours with lunch and drinks included in that grand KTV with tambourine and maracas. and the cost per person SG $5!!
Wang Fu Jing
Auntie and i at wang fu jing. the well is suppose to be at the bottom of the plague.
We bought BBQ skewers from this stall. He tried to scare me with the Scorpions.
these are the scorpions. still alive on the skewers. yeeks. but they taste like marinated grasshoppers, the best of the lot.
Ate the grasshoppers too, tastes like crispy prawn shells, but not as good as the scorpions :P
cicadas. really can't stand the eyes staring back when i stuff it into my mouth, its looks freakier than the crickets i ate at cambodia. On top of that, it doesn't taste good, like green peas..
This is how the whole lot looks like after being panfried. Yummy! haha..
And yeap, will have more photos coming up.
Merry Christmas to all!!
Posted at Thursday, December 20, 2007 by xenomorphic
Permalink
| | |
| --- | --- |
| | Sunday, December 16, 2007 |
All men dream, but not equally. Those who dream by night in the dusty recesses of their minds, wake in the day to find that it was vanity: but the dreamers of the day are dangerous men, for they may act on their dreams with open eyes, to make them possible.

Thomas E. Lawrence

Posted at Sunday, December 16, 2007 by xenomorphic
Permalink